Building Your Dream Heaven
Building a new home is an exciting and often daunting experience for you, but it is routine for your builder, which is why you must be an active participant in all phases of the house's constructional changes to ensure you get "YOUR" dream home.
Because there are so many decisions that "must be" taken by you, building your new home cannot be a passive exercise. If you are unwilling or unable to make these decisions, you will be forced to do so by your builder, and you risk your new home not turning out the way you imagined it or costing what you expected. Here are five things you should know and consider while building a new home:
Get To Know Your Figures
Before you begin construction on your new home, do some math to see if you can afford to create the home you desire. Most house plans include a cost-to-build calculator that will give you an accurate estimate of construction costs based on where you're building (typically for a small price). The figures include construction costs, tax benefits, funds for a down payment and a slush fund, and other computations.
Once you've determined that you can afford to build the house of your dreams, buy your house plan and go to the bank to get financing. Keep in mind that home building financing differs from traditional mortgage finance. To begin, you'll need a home building line of credit to pay subcontractors and M-sand Supplier, construction material supplier that do labour and supply Building Materials like (M-sand, Cemented bricks, Crushed stone grits etc.). You'll need a residential mortgage to pay off the construction line after your house is built.
Examine Your Builder's Track Record
There are many builders out there, but not all of them are created equal. Find out which builders have the finest reputation by doing some research. Find out if a builder is respected for delivering great work and being on time, whether you look for information online or obtain referrals from relatives and friends.
Select a construction system
Based on the current technological trend, a variety of construction methods have been established that are more efficient, effective, and reduce construction time. You might utilise standard Manufactured sand, precast concrete, reinforced concrete, or wood panels, which are solid wood panels carved in a workshop using a numerical control to fit the client's preferences. However, these are dependent on a number of circumstances, like the client's budget, location, plot topography, weather, and so on. The most efficient construction system will be realised with the help of an architect.
Where Can I Get Building Materials?
Google is a huge help when it comes to locating practically anything on the planet. When it comes to finding the correct & best construction materials in Udaipur and their location, browse for reviews, feedback, and other information, or ask your friends and family for recommendations.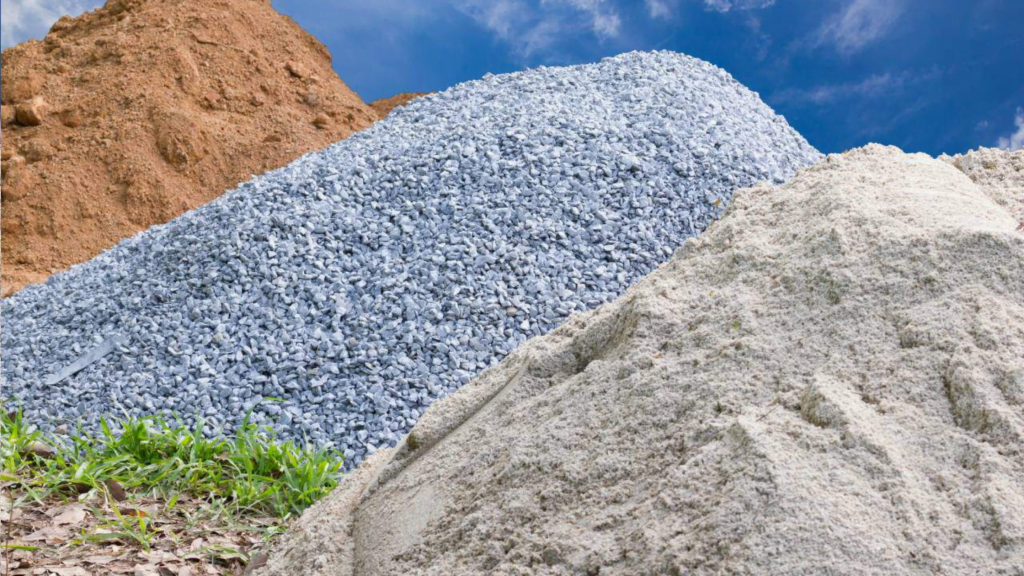 If the raw material is accessible, you can acquire it directly from the manufacturer or manufacturer's sales depot; if not, you can contact M-sand manufacturers in Udaipur, distributors, whole-sellers, or retailers, for example. The price at which you purchase something will undoubtedly be determined by the person from whom you purchase it. Before making a decision, you should receive a proper quote from two or three sources.
ALSO READ: Manufactured Sand: Reshaping The Construction Industry
Who is the manufacturer?
There are several ways to check the reputation of the Building Material Manufacturers in India you're considering. Whether it's a well-known established company or a newcomer, you'll be able to determine their market reputation, including after-sales service and support.
Environmentally Friendly Materials
When building, try to leave as small of a carbon footprint as possible. Invest in solar panels as a long-term, energy-efficient power source. Also, before beginning construction, attempt to reduce wastage and rework by confirming all design, financial, and structural components of your home. Make judicious and best construction material selections. Use Artificial sand instead of river sand.
Search For A Professional Builder
Because constructing a home will cost a lot of money, you must be extra selective when selecting contractors. Choose dependable workers who can demonstrate their worth as home builders by displaying triumphs from previous projects.
When looking for home builders, it's also important to have ties with other construction specialists such as architects and engineers. This ensures that your home design has been well planned and will come to reality. Other clients' recommendations are something you should think about because they know how they work. You can look at photographs of finished projects on official websites to check out some potential building services. It's a lot easier to weigh your options this way.
Always Remain Adaptable
Circumstances change on a daily basis, which can also occur when building a home. The worst-case scenario is when the weather becomes so unpredictable that it disrupts buildings.
Inspections are required at every stage of the construction process since they are a necessary aspect of the construction process. Because of the severe weather, there will be delays in obtaining permits, which will slow down the procedure.
Furthermore, purchasing supplies may take longer, whereas the solution is to get more products that will last for two weeks. Find a temporary place to stay while you wait for your new house to arrive. Additional expenditures may be incurred as a result of all of the delays, which homeowners should consider.
Let The Game Begin!
You can inform the contractor to start the construction work after you've considered all of these factors. Before you start building a new house, hire an expert lawyer to draft a watertight contract for you. Consider all of your financial possibilities and make all of your payments using demand drafts or cheques so that you can keep track of all of your expenses. To avoid making any mistakes, physically supervise and oversee the construction activity. You can also hire an experienced and technically competent supervisor to oversee the construction process and guarantee that all of your plans are carried out.
Building a new home is a time-consuming process, but it differs from buying an existing home in that you will be present from the beginning to the conclusion. It's a delight unlike any other to witness your dream home take shape brick by brick. The tie made with the house will remain longer than the one brought with it. However, unless you plan ahead of time and follow through, the adventure of the encounter will be a letdown.
Follow us on @rajminerals