Crafting Durability: Build a Stronger Home with Cemented Bricks
One of the ancient construction materials and methods, cemented bricks/concrete blocks have been used in building houses, floors, walls, fireplaces, walkways, and much more. But, are they suitable for construction?
The proofs are around us everywhere. Age-old building, pathways, bridges, walls, and most of our surroundings has been made of cemented bricks. And, they are still intact standing tall with all their strength. Cemented bricks manufacturing began in 7000 BC in Southern Turkey. Woah! Still, Counting? You don't need to. The earliest fire brick manufacturing began in 4400 BC in Neolithic China. Those bricks were made in red color as we usually see today. So, cemented bricks have been there for a very long time, older than most of the oldest civilizations.
Why Choose Cemented Bricks?
Cement bricks/concrete blocks are an exceptional choice when it comes to construction under various environmental conditions. Also, they are ideal options for building low-cost housing. Available in a variety of sizes, shapes, colors, and textures, a cemented brick comes in two types: Solid & Hollow.
Solid cement bricks are sturdy and heavy while hollow bricks are lightweight and easy to manage. Hollow bricks can be filled with mortar in between to give extra strength to the construction.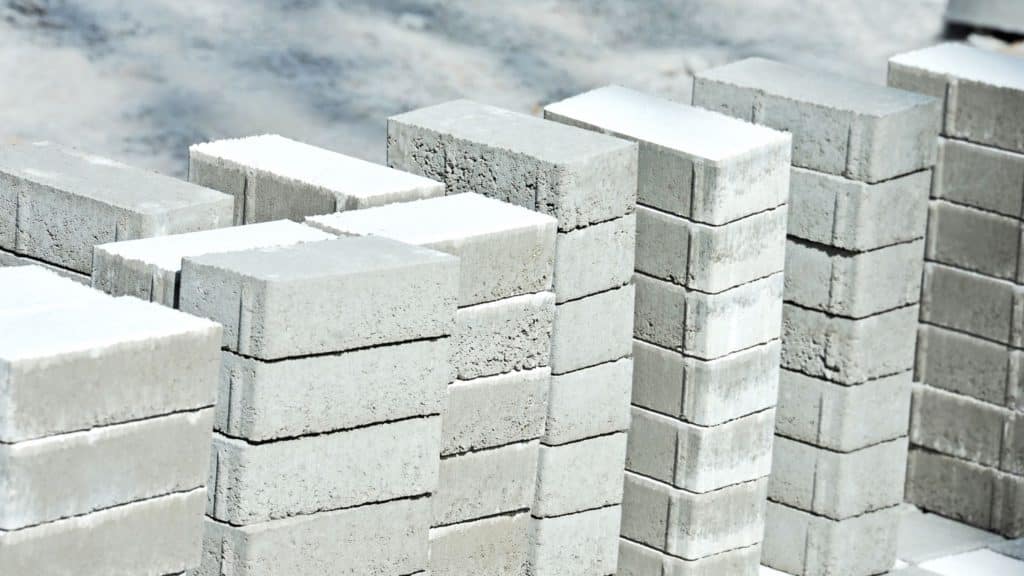 Benefits of Cemented Bricks
As compared to clay, cemented bricks are cheaper and are much stronger than ordinary bricks. Here are some advantages of cement bricks/blocks:
All Round Protection
The cement bricks manufacturing is completed by drying bricks in a fire. So, naturally, they are fire retardants, which makes them heatproof too. In summers, cement brick absorbs all the heat during the day and releases them at night, keeping the home cool, while in winter, it keeps the house warmer.
Humidity Proof
Cement bricks absorb humidity a lot better than other building materials. This can result in minimizing the risk of dust and mildew keeping allergic reactions away in individuals.
ALSO READ: Difference Between Fly Ash Bricks And Cemented Bricks
Durability
A building or construction made of cement bricks is much stronger and long-lasting. Walls made of cement bricks do not deteriorate faster compared to other construction materials. For years to come and go brick construction remains standing tall and intact even in extreme weather conditions without much replacement.
Negligible Maintenance
As compared to block construction, cement brick does not require regular maintenance. While block construction begins to fall apart if not maintained properly, cement brick construction on the other hand will remain in its existence. To highlight their looks block construction demands heavy funds, whereas cement brick can be left as it because it does not need to be painted or treated for durability or good looks.
Sustainability
Our houses are usually made with cement bricks and for years to come they don't seem dangerous, instead, they are safe to live in. Reusable, long-lasting, and impervious to fire and pets. Especially, cement block construction doesn't contain any contaminants and is weatherproof too.
Soundproof
Those who live near busy highways or in industrial regions may find soundproofing to be a blessing. Cement brick walls have a higher density than block buildings and are therefore more soundproof. Their effective acoustic insulation is tremendous assistance if the noise in your home keeps you from getting a good night's rest.
Eco-friendly Alternative
Neither their development nor manufacture have any negative effects on or depletes the natural environment. They are constructed of Fly Ash, a byproduct of thermal power plants. The processing and production of red bricks, on the other hand, absorbs topsoil, depriving nature of its vital protective soil layer. The National Green Tribunal Act was founded primarily for that reason.
Space Saver
Builders and contractors frequently suggest concrete blocks because of how much overall room they save. The amount of space required for the building of walls increases when the width is decreased without compromising reliability. Brick walls are now being phased out, especially in large cities where there is fierce competition for available land.
Conclusion
It's a toss-up between block and cement brick when it comes to material. Anyone who is preparing to start building must take into account the benefits of cement burnt bricks. But a lot depends on the spending limit, the builder's circumstances, and the available space. Cement bricks are the best option if you want to make a one-time investment and don't want to do much maintenance. Cement block construction is environmentally friendly too. Are you looking for a Cemented Bricks supplier in Rajasthan? Raj Mineral is the best option you can rely upon.
Follow us on @rajmineral